Meditations in the Seto Inland Sea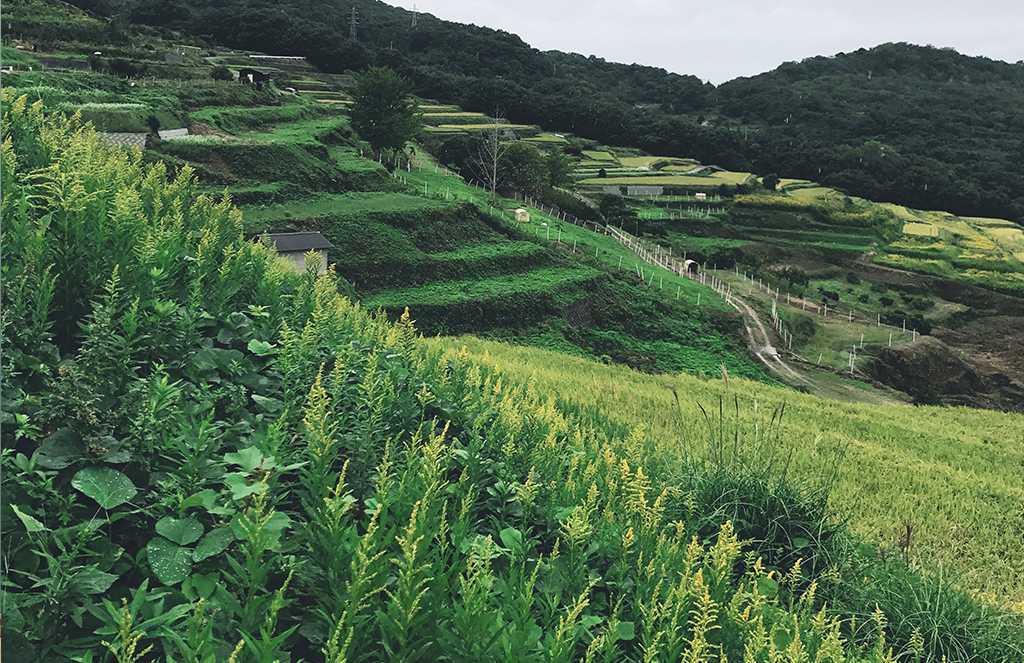 瀬戸内海に浮かぶ島々、小豆島・豊島・直島・男木島・女木島。 3年に一度、芸術祭が行われるアートを巡る島々。期間外でも存分に楽しめることができるので、 瀬戸内海芸術祭を機に建てられた美術館やアート作品を訪れました。
瀬戸内の香川県側の高松港と岡山県側の宇野港という2つのルートがありますが、 宇野港から直島と豊島の2日間ルートをご紹介します。 瀬戸内海で釣れた魚や美しく実るオリーブを現地のレストランで堪能し、朝から晩まで美術館や展示を楽しむことができます。
宇野港からフェリーで直島に着くと、草間彌生氏の「赤かぼちゃ」藤本壮介氏の「直島パヴィリオン」 がお出迎えしてくれます。 1日目は、アクティブにまわりますが、2日目は山と海を感じてアートを楽しんで欲しいと思います。 直島から豊島までフェリーで向かうと、直島とはまた違った雰囲気を楽しむことができるからです。 島いっぱいに広がる唐櫃棚田緑のグラデーションが海まで続き、息をのむほどの美しい風景です。 何故か懐かしく感じる、瀬戸内の自然を体験することができます。
Naoshima, Teshima, Shodoshima, Ogijima, and Megijima are five islands in the Seto Inland Sea. Once every three years, the islands celebrate a big art festival. Even if you don't make it to the festival, the islands have many works of art museums that are enjoyable to visit.
There are two ways to get to Naoshima, the most developed of the islands: The first is to take a ferry from Uno Port in Okayama Prefecture, which can be reached by train from Okayama city, on the main Shinkansen route. The second is to fly into Takamatsu on Shikoku island, and take a ferry from there.
This guide is for a two-day route to two of the islands, Naoshima and Teshima. Enjoy fresh fish caught in the Seto Inland Sea as well as the local specialty, delicious olives. There are many museums to visit from morning until night!
When you arrive at Naoshima from Uno Port, you will be greeted by Kusama Yayoi's famous "red Pumpkin" as well as Fujimoto Sosuke's "Naoshima Pavilion".
The first day is meant to be active, but the second day is designed to relax and enjoy the mountains and sea. If you take a ferry from Naoshima to Teshima, you can enjoy a different atmosphere from Naoshima.
Teshima has picturesque terraced rice paddies that descend into the shore. There is a strange, nostalgic feeling to the nature of the Seto Inland Sea.
Day 1
🍜

Marugame Seimen / 丸亀製麺 うどん

♨️

Naoshima Public Bath (I Love Yu) / 直島銭湯「I♥湯」

🔳

Arthouse Project / 家プロジェクト

⬜

Lee Ufan Museum / 李禹煥美術館

🌿

Chichu Art Museum / 地中美術館

📍

Benesse house / ベネッセハウス

🥃

Cafe Salon Nakaoku / カフェサロン 中奥
Day 2
🌧️

Teshima Art Museum / 美術館

🍮

Teshima Art Museum Café & Shop / 美術館内のカフェ兼レストラン

❤️

Les Archives du Cœur / 心臓音のアーカイブ